So, we have reached the halfway stage and despite the promises of doom from savior of the world elect, Mitt Romney, it has not been a Romneyshambles. For the most part the Olympics have been a roaring success, especially if you are American, Chinese or British. It has made for painful viewing for Australians. Much has been made about how every British sportsperson fails once given a good luck message from British Prime Minister David Cameron, but the ultimate curse of 2012 came from a smug French President. Hollande mocked the British and has now watched day after day of British golds… nice. Here are some of the top comedy fails or just bizarre images from the first week of the Olympics.
10. Nice and Naughty
Before the opening ceremony had even started the Olympics' football division had nearly reignited the Korean war when Hampton Park in Glasgow put the flag of South Korea next to the names of North Korean players. The North Korean players stormed off the pitch and it took an hour to get them back on the pitch. A pre-match warm up was later cancelled in Newcastle when North Korean flags were put next to the names of South Korean players in their opening match. This prompted one newspaper to rename the countries in their medal table. It's fairly easy to work out which one is Nice Korea and which one is Naughty Korea.
9. Ringing the Bell
Amazing how politicians make simple things look so darn difficult. All media minister Jeremy Hunt needed to do was ring the bell to signal the opening of the Olympics. Instead he managed to nearly hit someone with it. Fail.
Video: http://www.youtube.com/watch?v=xmCtGKwgJ2k
8. A Very Happy Queen
http://a4.sphotos.ak.fbcdn.net/hphotos-ak-ash4/376305_500235740005884_785469768_n.jpg">
The opening ceremony is a great time to see how countries are portraying themselves. Britain is a bit odd, likes it hospitals, fantasy stories and good music. The main draw for many is the parade of nations. We love the costumes and the Czech's wellies, but we should be more thoughtful. For some, like the Queen, it is a painful reminder that one's empire is not as big as it used to be.
7. NBC Fail
How hard can it be for NBC to recognize an American sporting great? The broadcaster duly sent out some reporters to see what the general public thought about the opening ceremony. The reporter asked this random bloke in the picture, who thought it was wonderful. The reporter did not recognize him, neither did the presenter in the studio or any of the producers. Maybe Evander Holyfield needs to come out of retirement again.
6. Mayor on a Rope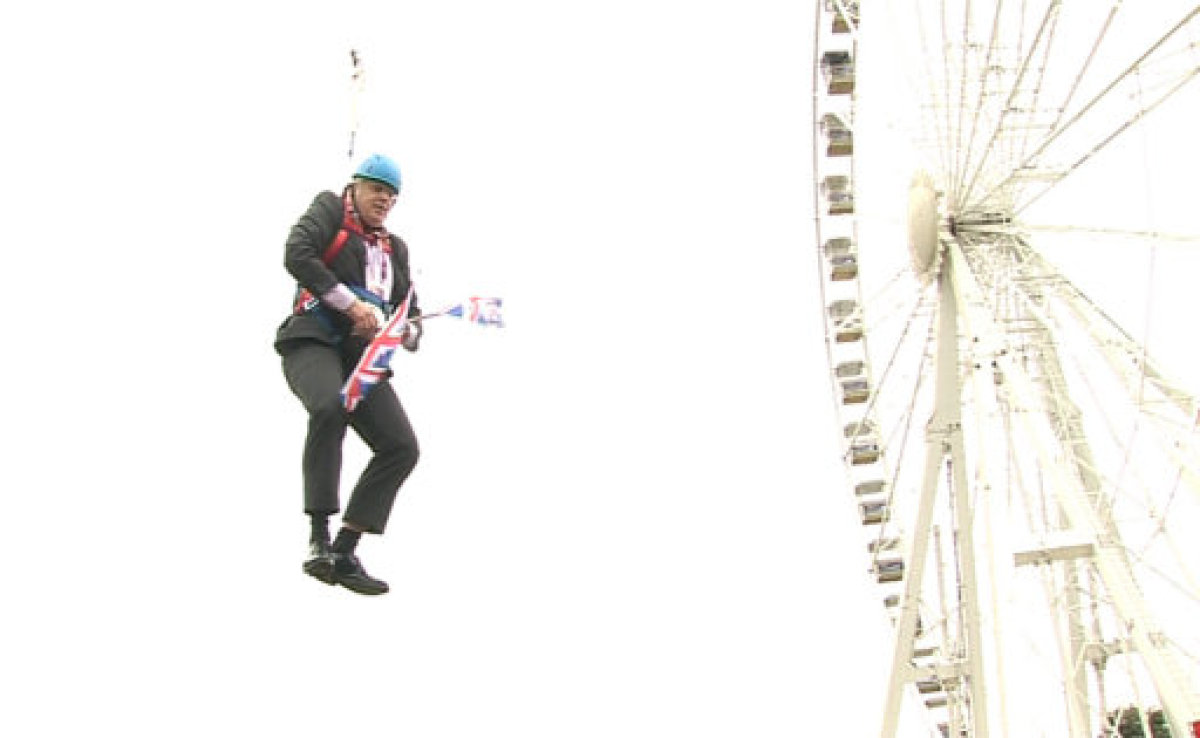 http://i.huffpost.com/gadgets/slideshows/242621/slide_242621_1325357_free.jpg">
The idea was simple. Get the London Mayor with two British flags so zip line down across the Olympic Park. It would be the political version of James Bond on the Queen, only there was a problem. Of course there was. It was a politician trying to look cool. The zip line got stuck and Boris Johnson was left hanging. For most politicians this kind of escapade would make them a national laughing stock. Imagine Hollande or Obama doing this, but for Boris this kind of bungle has actually made him even more popular.
This has led to a whole range of dangling Boris pictures:
5. Badminton Self-Immolation
How hard is it to win a badminton match? Very difficult when both sides are winning, but try losing a match when both sides want to lose. Two pairs from South Korea, one from China and one Indonesia tried to lose on purpose to avoid facing higher ranked opponents. So angered were the grounds and the officials that all four pairs were disqualified and sent home in disgrace.
4. Graphics: Not Always a Good Thing
Many a British fan had high expectations for young diver Tom Daley. As this picture shows the Olympics are obviously not sexy enough. Of course, it is also possible that the graphics were trying to hide Tom's interesting choice of underwear.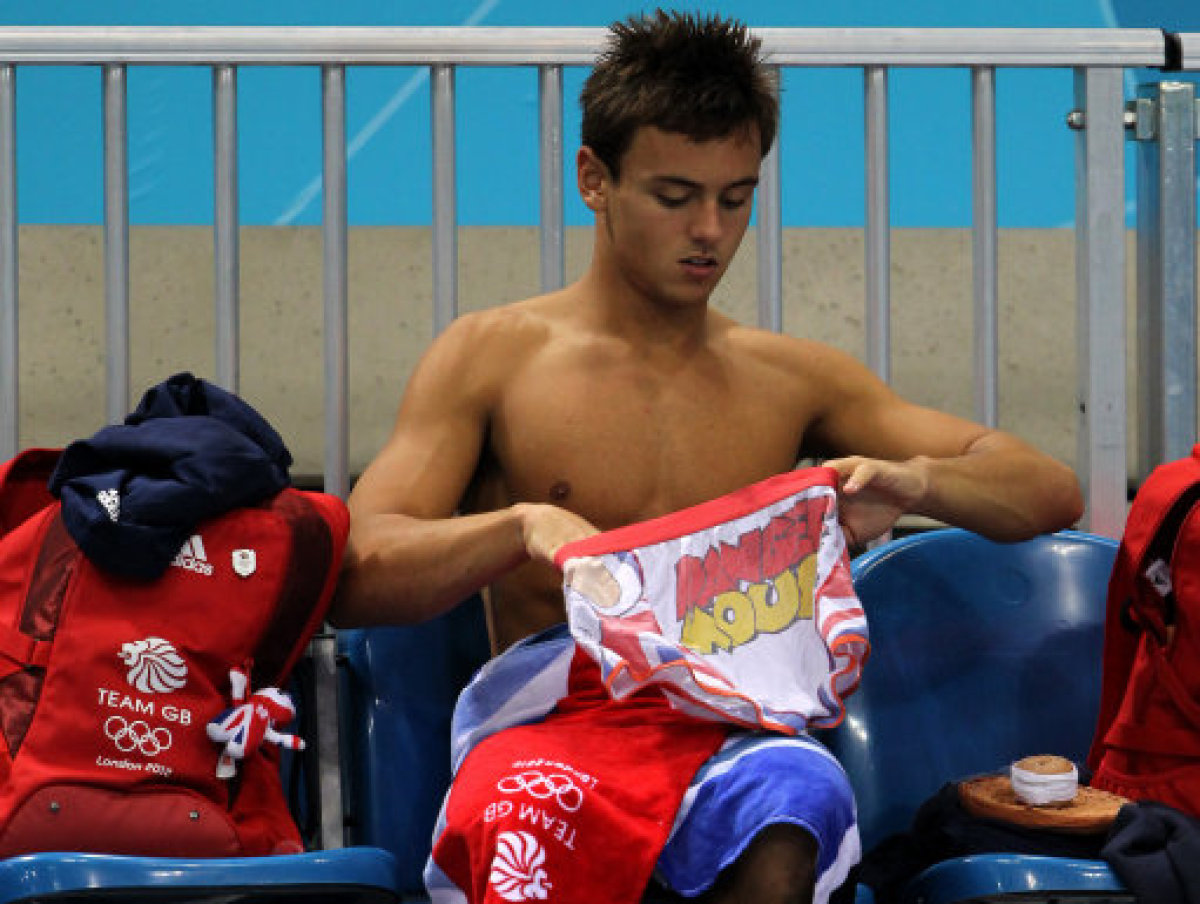 Who knows what the judges would have made of that.
3. Behind The Bins – Don't Ask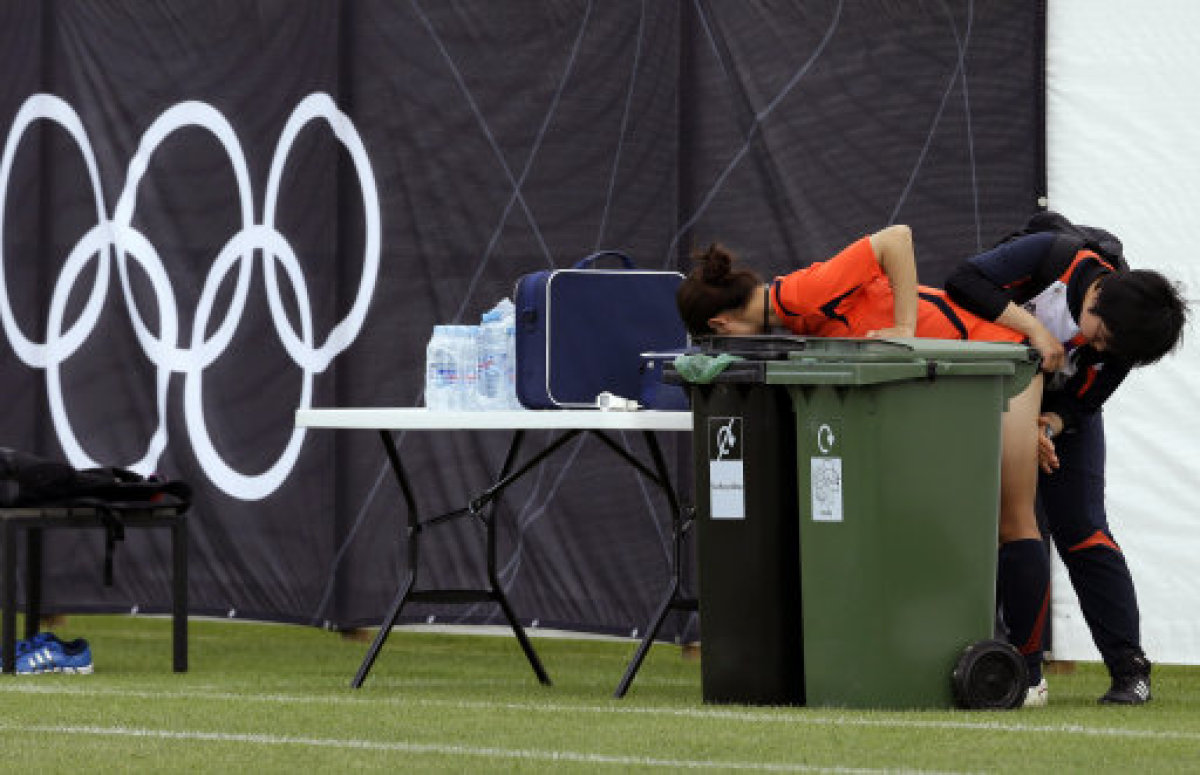 There is not much you can say here. A female athlete behind the bins with her coach. A cause for scandal?
2. Nothing to Be Sari About
For Indians, the most controversial moment was when a gatecrasher joined their parade at the opening ceremony. The Indian student living in London volunteered to be a part of the opening ceremony and was asked to lead them out. Thinking that meant all around the stadium, she managed to get herself into a lot of trouble back home. Oops.
1. Top Twitter Jokes
Not a surprise here, but Twitter has been aflame with Olympic jokes. Here's a selection to round off. Try not to groan too hard.
@RichNeville: "I want to play Badminton at the Olympics so badly."
@ChrisBrosnahan: "Boris Johnson stuck on a zip wire holding two GB flags is, I think, what most of were expecting the opening ceremony to be more like."
@Wendy_Wason: "I liked the Olympic opening ceremony. It was cool to see where all those NHS beds went."
@LilythePurr: "I like to think we can beat the Chinese at their own game. Anyone for MahJong?"
@nottjmiller: "I can't seem to get excited about men's volleyball unless women are playing it."
———–
Lydia Mitchell is a former Staten Island resident who has found herself, alone and scared, in the heart of London. As well as writing copy on experience days in London and other tourist attractions, she's also an amateur photographer and dabbles in interior design.